Christmas in Berlin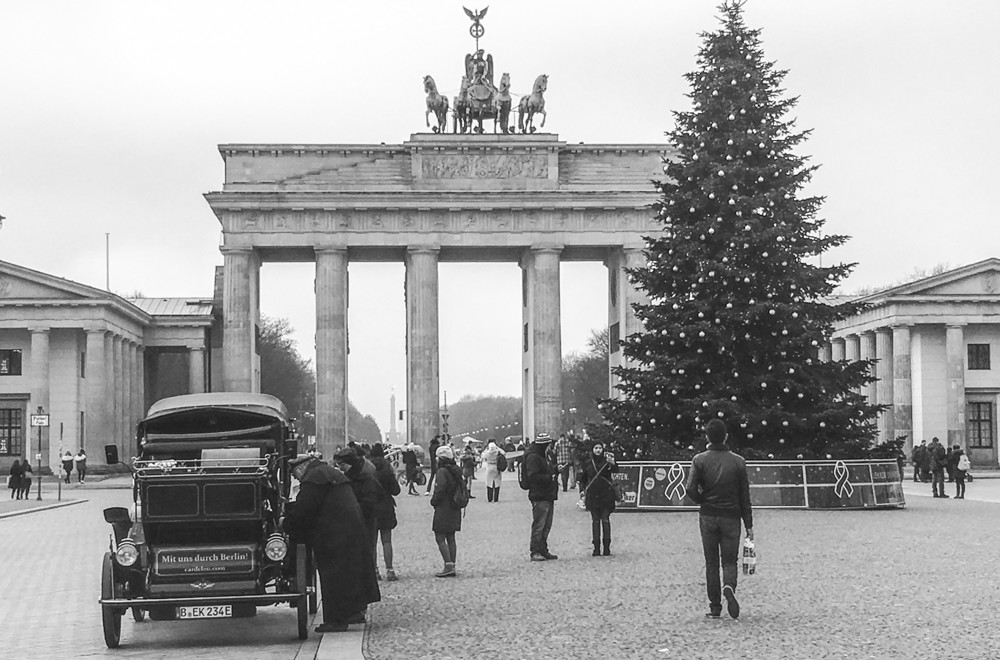 This is the third time Colby and I have been to Germany. But for all our visits, we'd never stayed in Berlin. We'd made the obligatory day-trip for a selfie in front of the Brandenburg gate, complete with its 'Russian soldiers' and tasteless souvenirs. But we'd never actually spent time there. Never really explored. So when a house-sitting opportunity came up in the city centre for a week over Christmas, we decided it was time. It was only after committing to caring for two cute cats that I remembered my pledge to avoid big cities during the festive season . . .
We arrived in Berlin one day after the devastating terror attack on the Christmas Markets. And although the angst I would have suffered earlier in our journey remained largely at bay, there was a vacant feel about the busy city. A throbbing artery of tail lights crawled past the Berlin Victory Column, around the Brandenburg Gate and up Unter Den Linden. Only twenty-four hours after twelve people had lost their lives, the city went about its business in a surreal normality, the only hint of the previous night's horrors, the shuttered huts of a gated Christmas Market.
The sadness of the city was masked under the glittering cobbles of the quiet street we'd soon be calling home. Only a short walk from the city centre, the neighbourhood oozed charm and the colourful, terraced apartments gave it a regal feel. Fairy lights hung in windows and parcel delivery slips were taped to doors; the first real hint of Christmas we'd seen. Matching the charm of the street, the double doors of 'our' apartment swung open, welcoming us into a place that truly felt like home.
Our lovely hosts, Ben and Elli, had recently returned from a house-sitting adventure of their own . . . across the familiar landscape of Australia. And over a bottle of wine, we spent the evening comparing notes, laughing at the best and worst-of, and ogling their stunning photos. Where I imagined the blue water and red dirt might stir feelings of home-sickness, they didn't. Instead they inspired a new zest to seek out more. To travel further and to keep experiencing life in unique places.
And then there were Oscar and Lucy, the two cutest cats ever . . .
Perhaps it was the grey skies and freezing temperatures, or maybe the thinning Christmas crowds, but Berlin was bathed in a different light to what it had been on previous visits. As we strolled toward the main attractions, the big open streets and spaces divided the city like a reflection of its sordid past. Small bronze disks speckled the pavements, prompting moments of reflection. Memorials to persecuted Jews who once lived in the apartments above, each plaque recorded names, dates of birth, deportation and, if known, death. Ram-raid barriers and armed security stood guard, not over Christmas Markets but over synagogues and Jewish restaurants. A sign, not of present intolerance, but rather of a promise made in the wake of past atrocities. In the absence of sunshine and summer street performers, Berlin took a morbid shape. Even the stone soldiers embellishing the Reichstag Building spelled menace. The gargoyles or religious figures usually adorning stately European buildings took a back seat in the fractured Berlin.
Monument to the Murdered Jews of Europe
There are 175 museums in Berlin. So although we don't consider ourselves the 'museum type,' with so many options and a couple of days to spare, there was bound to be something of interest. It came in the form of the German History Museum which I hoped would shed some light on the country's dark and complicated past. Over two floors, and curated with a basic chronological flow, the museum not only laid out an easy-to-follow summary of German history, but also prompted thought into many facets of general politics I'd never considered; How closely early politics was coupled with religion. The role of the people in the country's demise(s). And the eerie similarities between the instigation of two world wars . . . and politics today. With today's strong economy and thriving population, I can only guess that Germany has moved on from its mistakes . . . but have the rest of us learnt from them?
Globe, complete with bullet hole through Europe and evidence of battering with a blunt object in what was considered an act of contempt by either Soviet or American soldiers
Heads ready to explode with consideration, we were almost grateful for two rainy public holidays and an excuse to veg on the couch with Netflix. Christmas Day came and went with an unprecedented simplicity. It wasn't white but wet. Prawns were replaced with antipasto and sweet treats, and family catch ups were limited to FaceTime and Skype. Backyard cricket was reduced to a Breaking Bad marathon and the sky drizzed on our afternoon stroll. It embraced everything that mattered to us. Relaxing, regrouping, adapting, exploring . . . Together
Berlin might be miserable in the winter, but that's only an incentive to come back and visit Oscar and Lucy in summer.