Monkeying Around in Arashiyama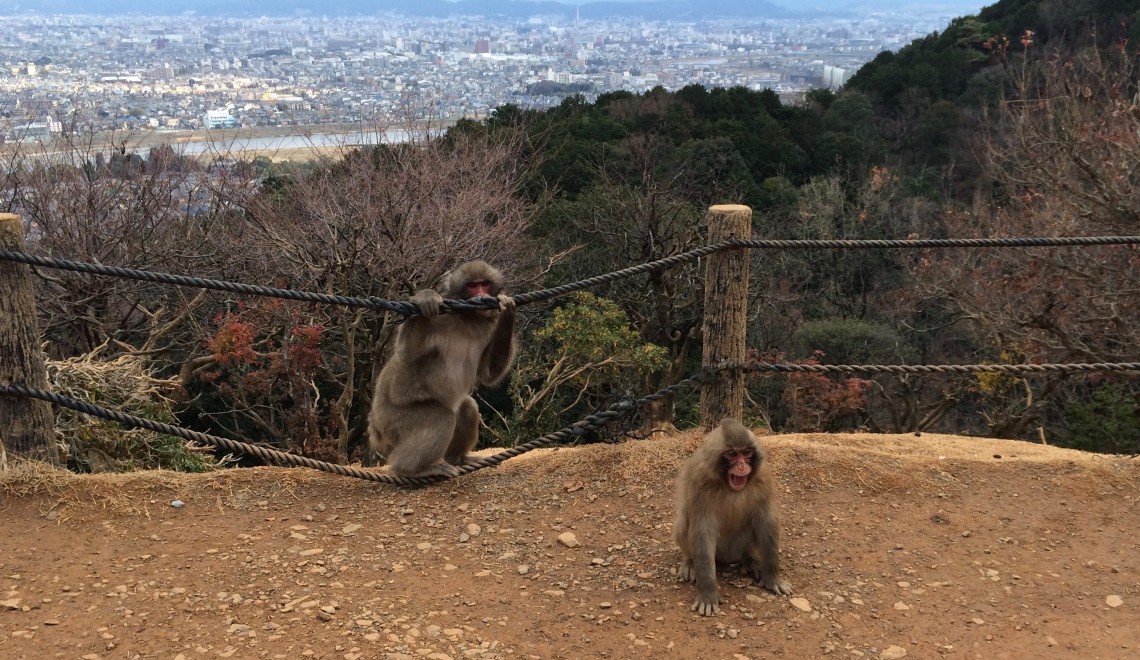 Arashiyama, on the banks of the Katsura river, is a peaceful district on the outskirts of Kyoto. An easy journey from the city centre by train, it is filled with temples and shrines and is home to the famous Arashiyama Bamboo Grove. So safe, clean, simple and convenient is public transport in Japan, we actually look forward to the journey to the edge of the city . . . unlike similar train journeys in Europe where we've been known to clutch our personal belongings (and kidneys) like the crown jewels and pray that we don't look like tourists.
We are welcomed aboard the train by Logies-type music and spend the short journey considering the word "Konnichiwa". I find great, albeit childish humour mastering the nasal pronunciation, and imagining two Japanese tourists, sitting on a train in Melbourne, bursting into fits of laughter over the word "Hello."
Another melody of logies-type music snaps me out of my contemplation and I shove my inner child, along with my Kyoto map, back into my handbag and begin navigating through the quiet streets. Hawker-type stalls and traditional stores dot the route and signature rickshaws roll past, tourists rugged up in the in their shaded buggies.
 Photo:http://www.amazingplacesonearth.com/sagano-bamboo-forest-japan/
The entrance to the Arashiyama Bamboo Grove is an anticlimax. We arrive through a series of narrow laneways to an expanse of gravestones, and only a smattering of bamboo peeping over the horizon beyond. Shrines seem to be randomly tucked along the path, still filled with New Year well wishers and the place holds a strange vibe.
It is not until we are within the Bamboo forest that it's beauty becomes clear. The giant stalks tower above us, greys and greens blending into an almost mystical fog. For a moment I am transported to another place. Somewhere magical. Somewhere far from buzz of civilisation.
Stone pathways snake in every direction and, 'choosing our own adventure,' we take a set of steep narrow steps which lead into the park surrounding the Tenryuji Temple. Another set of narrow stone steps leads us down to the river below, and back into the buzzing tourist district. The main street of Arashiyama is Japan's answer to tourist trap, but still it lacks the garishness of most other 'tourist traps' and I can overlook this given it's wealth of sweet treats.
Yet to sample the signature Japanese dish, we select a Soba Noodle restaurant overlooking the river for lunch and in his haste to sate his growling stomach, Colby is scolded for walking across the Tatami floor in his shoes.
We are seated at a bar on the second floor, with views out to the the famous, yet less than impressive Togetsu-kyo Bridge. The bridge is Arashiyama's central landmark and has been used in a number of historical films. It is said to be particularly impressive during cherry blossom season. No doubt the season contributes to my lack of enthusiasm, given it is winter, but I can't say I'm a massive fan of the bridge.
I can't say I'm a massive fan of Soba noodles either. They might be healthy, but they're bland and watery. And I'm particularly not a fan of the bloke next to us who slurps loudly with every mouthful. I know this is Japanese culture, but the loud slurping, coupled with my compulsion to cram as much as humanly possible into one day, and Colby's newfound Facebook obsession which hinders this compulsion, suddenly sends my irritability factor soaring.
Removing myself from the slurping environment lightens my mood, and seeing Colby scolded again for placing his shoes on the Tatami floor puts a further smirk on my face as we head for the famous bridge.
The town continues on the far side of the river and houses still more confectionary stores, each with their own viewing window where we watch as intricate desserts are made and packaged for sale within. The endless samples on offer are the best thing about this culture. I could've spent ¥1000's here on spectacular looking treats whose taste didn't match their appearance.
The far side of the river also houses the Iwatayama Monkey Park which is ranked among the Tripadvisor top 'things to do' in Arashiyama. Approximately 120 wild Japanese macaques gather at a feeding post at the top of top of the mountain and tourists can buy a bag of peanuts for ¥100 to feed them with. The climb to the feeding post is long and steep and requires the shedding of several layers despite the 5° temperatures. The feeding post consists of a small hut and it is an interesting experience to be a caged human feeding wild animals. The monkeys hang off the cage, arms outstretched regardless of if there is anyone to offer food or not. Where food is offered they snatch it from open palms, shove it in their mouths and with little appreciation, outstretch their arms for me.
The mountain offers views all the way across Kyoto and I allow my inner child a reprieve from the confines of my handbag, and find great pleasure watching the babies chase each other, then scurry after their mothers on the realisation they've been left behind.
The descent back into Arashiyama is treacherous, but it doesn't deter the locals who masterfully negotiate the paths in high heels. Neither does it deter them from their loveliness, every single one of them offering a "Konnichiwa" to not only both of us together, but to each individually. A teenage sporting team passes us and I offer a "Hi" and Colby a "Hello." They greet us pleasantly and as they disappear behind us I hear: "Hi, he he he." "Hello, he he he." Maybe there really is a Japanese couple on a train in Melbourne somewhere bursting into fits of laughter over the word "Hello".