How One Family Changed My Opinion of an Entire Country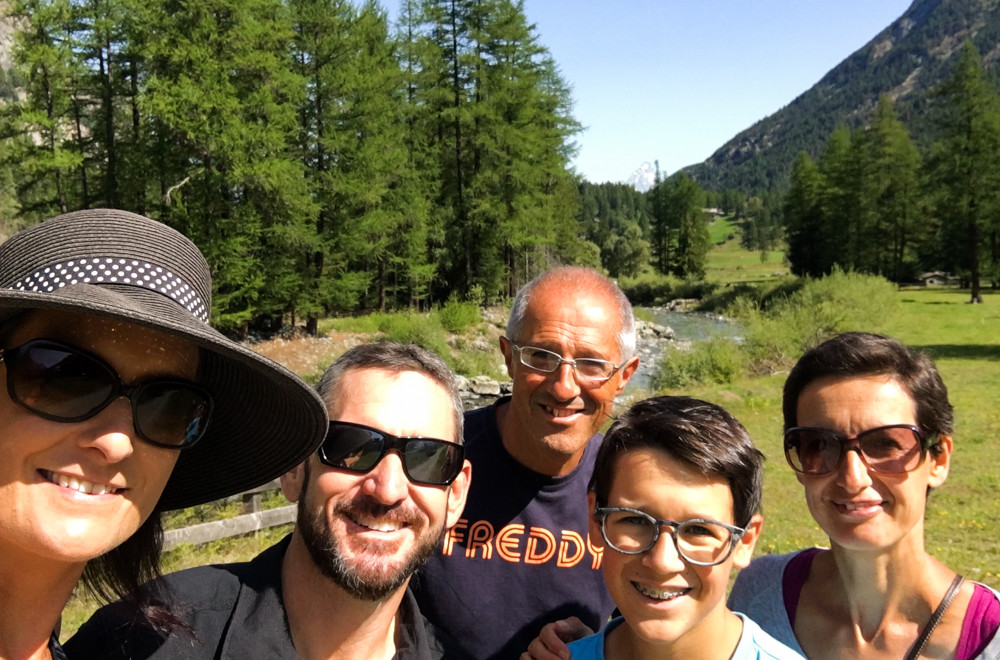 I never liked Italy.
I know, right? Rolling green vineyards. Stunning coastlines. And mind-blowing history.
I'd been seduced by the romance too . . . once upon a time. Prosecco. Pizza. Pasta. And all in quaint 15th-century piazzas. What's not to like?
But by the hundredth time I'd swerved to avoid certain death in the chaos they called traffic . . . that I'd been elbowed in the ribs at crowded cafes only to walk out empty-handed . . . and that I'd spent an entire train journey with my nose pressed into a sweaty, Italian armpit . . . I found myself longing for my own sunburnt country . . . full of order, simplicity and courtesy.
"Brace yourself," Colby mocked as we rolled over the Col du Petit Saint Bernard. It'd been ten years since the first time we'd faced the chaos. But still, I could only force a smile. We were, after all, back in Italy.
In the north-west corner of Italy, bounded by Europe's highest peaks, and tucked along the French and Swiss borders, is the Aosta Valley. It's mountain passes, castles and agriculture pay tribute to traditions dating back centuries. Intricate carvings and traditionally rustic fabrics. Sweet cheeses and fine cured hams. Wines and liqueurs. Everything produced here has origins rooted deep in farming traditions. Even the official French/Italian bilingualism can be traced back as far as 575 BC.
Fenis Castle
And our latest house-sit landed us in the middle of everything it had to offer.
Christina and Roberto's charming home looked out over rustic stone roofs, vegetable gardens and fruit trees. Hot air balloons floated through the fresh, morning air. And sleepy roads climbed, through farmland, to iconic mountain peaks. It was a world away from the push and shove of Rome, or Florence, or Milan.
View from Christina and Roberto's house
But it wasn't the tranquillity that convinced me I'd been wrong about Italy . . .
We'd sat around the kitchen table, the night before Christina and Roberto left. With books, maps and brochures piled high, they scribbled down a list of must-see places, their teenage son Niccolo translating all that was lost in the tangled web of English, French and Italian between us. They'd driven us around their region, stocked the fridge with local delicacies and introduced us to neighbours and friends. We were, after all, far from home, and they didn't want us feeling alone. And despite the sad reality that they would be farewelling their own daughter, Marta, on a year's student exchange the following day, they were determined to design us a week in the Aosta we would never forget.
". . . I hope the dogs aren't too much trouble for you," Christina added, with genuine concern, as they set off for Rome the next day.
The mountain town of Torgnon with the Matterhorn in the distance
Still piled high with books, brochures and maps, the energy around kitchen table was subdued the following evening. Our first day had seen us riding one of Roberto's suggested routes, gushing over spectacular views of the Matterhorn and settling in to a feast of local cheeses and vegetables, fresh from their garden. Inspiration overload abounded in the lists Christina and Roberto had left, with more attractions than could be visited in a year all fighting for our attention. But it was the doorbell who won out over them all.
Colby's eyes widened and he pushed me forward before he could find himself tangled in an awkward language barrier.
But our unexpected visitor was not put off by language barriers, launching into a confident combination of French, Italian and sign language as he shoved a brochure into my hand. We'd met Valter, Christina and Roberto's neighbour, the night before and he'd been more excited by the prospect of our stay than Christina and Roberto themselves. Now, if I was understanding correctly, he was offering to take us to a wine festival the following day. . . "Vino" is, after all, universal right?
"OK," I smiled with hesitation, hoping his offer would come to an obvious fruition, any unnecessary embarrassment at my potential misunderstanding tactfully averted. His hospitality had caught me off-guard, only compounding the doubts I had in my own toddler-level French.
But he arrived, as I'd understood, the following day to take us to the festival.
Italian wine tasting was nothing like the 'all-you-can-drink' spectacle of intoxication it was back home. Rather it was about savouring the experience in the company of friends. And on the other side of the world, accompanied by Valter, his colleague Gianni, and son Herve, we were surrounded by new friends.
Following their lead, we pushed through the crowded streets of Villeneuve, past the stalls of local produce and handicrafts, and through an obscure doorway. Dim light played across the raw stone walls and animated conversation hung in the air. Glasses filled, we gathered around a repurposed wine barrel and Gianni began boasting Italy's claim to the best wines in the world. The awkwardness we'd felt began to fade . . . It didn't matter that we spoke not a word of Italian. Herve practised his English. Valter spoke to me in slow, patient French, and Gianni laughed, throwing his arms around without a care in the world.
. . . and after several wines, the language barrier disappeared altogether.
Gianni, toasting the best wines in the world
The whole of Villeneuve was aware of the Australians in their midst by the time Valter led us back through the cobbled streets like Royalty. "You must come to my house for dinner," he insisted. "Gianni's called my wife. It's all organised."
Gianni shot me a smile, slipping his phone back in his pocket. This time I'd understood perfectly . . . albeit with a self-conscious dread at the prospect of imposing.
It was with a slight throb in my temples that we set out on our planned hike the following day. And climbing the steep trail out of the ski village of Champoluc, we reflected on how lovely everyone had been to us and how welcome we'd felt, ashamed to admit, we probably wouldn't be quite so welcoming of strangers back home . . . particularly if they didn't even speak our language. Yet even the route we were walking had been thoughtfully planned by Christina's friend, Loredana, who'd been eager for us to experience the local delicacies served by the refuge at the top.
The picturesque trail out of Mascognaz on the route plotted for us
Mascognaz
Perhaps it was all this friendliness that saw me abandon my usual hesitation. And my recent foreign-language success which had filled me with over-confidence. Or perhaps the promise of delicious Italian food just had me thinking with my stomach. But when I spotted the cute, timber sign advertising 'Rifiuti,' above a room full of people chowing down on lunch, I didn't give a second thought to marching in for a fresh pasta . . .
The horror which exploded on an old lady's face instantly declared my mistake. Hands raised, I backed through the door, desperately trying to recall 'sorry' in Italian. This was no mountain refuge. I'd walked straight into someone's home!
Thanks to Google Translate I learnt only too late that this sign doesn't say anything about a "Refuge" but rather reads "Please do not leave Garbage!"
The mountain refuge was in the next village, perched on the mountainside with stunning views into the valley. The sun played across the menu and the bitter sound of defeat throbbed in my head. The food looked amazing, but it was going to have to be lucky-dip.
"I'm so sorry," a waitress appeared from nowhere, obviously flustered. "I should have interpreted this for you." And with a restaurant overflowing with native-speakers, she took the time to describe every mouth-watering dish.
It was probably unnecessary for the waitress at the Refuge of Crest to interpret the menu. Every single dish looked amazing
Loredana laughed as we recalled our mountain experience, faux pas, delicious food and all, over fresh Gelato the following day.
"No way." She gave me a stern look as I pulled out my wallet to pay. "This is my treat."
I'd spoken to Loredana on the phone before Christina and Roberto left and we'd arranged to meet later in the week. She worked in languages and spoke excellent English. And so we strolled through the Roman town of Aosta, savouring the unparalleled Italian ice-cream, and discussing our cultural differences, not least the unbelievable hospitality we'd been extended since we'd arrived.
The town of Aosta
Her two boys ran ahead as she led us through the Praetorian gate which dated back to 25 BC. We walked alongside the remains of the Roman Theatre façade which still screened movies on certain nights, and into the Sant'Orso Church with its painted, marble-look walls completely obscuring the frescos beneath. We strolled through the choir stalls, fascinated by the intricately sculpted timberwork, and in the Romanesque cloister, took turns picking the biblical scenes carved into the marble pillars. There was a beautiful simplicity in sharing our discoveries with new friends, savouring details we would've otherwise sauntered straight past.
The 22 meter high Roman theatre façade
There are only so many tourist attractions that can fill a long-term journey. So many museums you can visit, and so many selfies you can take. But walking through the cobbled streets, comparing mountain flowers in a florist and discussing the Italian education system gave everything a new dimension. And far from any Insta-worthy sight, what we'd come to love most on our journey were the people we'd met, and the genuine insights they gave us into foreign cultures.
And if there was anyone who embodied the epitome of Italy, it was our new friend Gianni!
Like a reborn Marco Pantani, head shaved and helmetless, Gianni pedalled up the Col du Grand Saint Bernard with all the passion of an Italian pro. Having talked cycling earlier in the week, we'd organised to ride the bucket-list climb, along with Valter and Herve, on our last day.
At a pleasant 6%, the road curled through blankets of purple Willowherb, following the route taken by both Julius Caesar's, and Napolean's armies, hundreds of years before. With the remains of a Roman road still visible at the summit and evidence to suggest use as early as the Bronze age, the Col du Grand Saint Bernard is one of the most ancient passes in the Western Alps.
Col du Grand Saint Bernard
Gianni disappeared near the start of the climb, arms flailing in an animated conversation and Colby pacing alongside. Valter, Herve and I plodded behind, taking in the sweet stone refuges, marmottes and numerous opportunities they afforded to stop and catch our breath. Gianni was lounging at a roadside cafe, glass empty and in deep conversation with a pretty waitress by the time we finally reached the summit.
Herve, Valter, Gianni, Colby and Myself at the top of the Col du Grand Saint Bernard
The sun had set when we finally pulled in back at Christina and Roberto's. Gianni had taken us on a breathtaking detour on the descent back into Aosta, and making the most of our final hours, Valter spent the evening showing us every sight we'd missed in the Aosta so far. My appreciation grew with every waterfall, Roman Aqueduct and spectacular view of Mont Blanc we stopped to admire.
Christina and Roberto had invited us to stay a while longer after their return. They wanted us to see more of the beautiful valley and offered us the use of their mountain chalet. Sadly our plans didn't allow, but with enough time for one last local outing, we set off together for the pretty Val Clavalité.
Val Clavalité
"I imagine it must have been hard leaving your home in the hands of strangers," I said to Christina as we strolled into yet another pretty valley. "Especially the first time."
"No." She shrugged with resolve. "I'm not precious with my things." She gave her son a friendly nudge. "Niccolo was a bit concerned about his magic cards, but I like sharing my space."
On learning it would be my birthday the following day, Christina and Roberto served up a delicious lunch, followed by an amazing selection of Pasticcini (Italy's answer to petit fours), a traditional birthday treat.
We've never felt more welcome than we did in Christina and Roberto's beautiful corner of the world. They, along with their friends and neighbours took time out from their lives to show us as much as they could. Without knowing us, they invited us into their homes. Without judging, they showed tolerance and patience when we didn't speak their language. And unconditionally they accepted us as friends. My opinion of Italy had changed . . . and I definitely wanted to come back.
Perhaps we struck it lucky. Perhaps it was inevitable that we'd have a different experience in a small, sparsely populated region than in big cities. And no doubt every country has its good and bad. But if the capacity to change my opinion of Italy lay in the kindness of one family, then perhaps the capacity to change someone else's opinion of humanity, lies with me.