How to Repurpose Sorrow Into Hope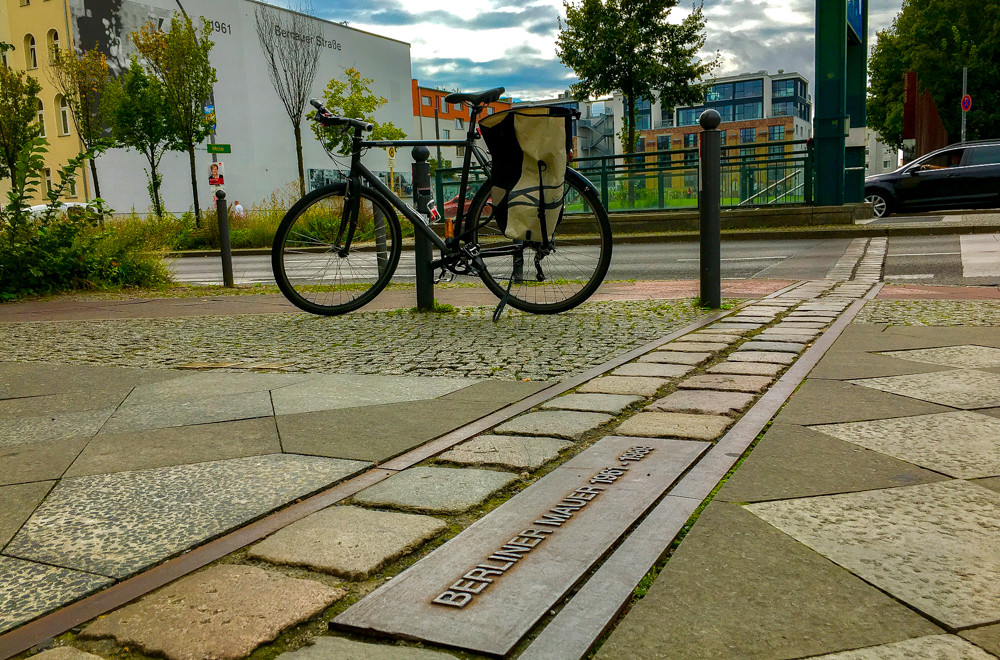 I stepped forward, unconsciously keeping time with the beat of a drum. Crowds gathered around the solo guitarists and juggling acts who transformed the vast gaping wasteland of what had once been the Death Strip. People sipped beers in the afternoon sun and the scent of fresh paint filled the air as artists repurposed an infinite concrete canvass; one of the last remaining sections of Berlin Wall. Inch-thick paint flaking from its face, the wall's original purpose had been all but forgotten. Mauer Park on a Sunday was the epitome of an iconic, 'hip' Berlin . . .
The art on one of the last remaining sections of Berlin Wall is ever-changing. With everyone equally deserving of space, what might seem like a masterpiece one day, has been painted over with chook scratchings the next.
The wall disappeared behind a thick crowd gathered for Sunday Karaoke, Mauer Park's most iconic attraction. The ear-grating sound of a Bjork wannabe pierced the audience, yet no one booed. Street vendors tip-toed between shoulders, balancing cocktails on trays as hundreds of people clapped along with the beat. Vagrants followed, tossing empty bottles into hessian bags.
Bear Pit Karaoke has grown from small beginnings in 2009, when Irishman Joe Hatchiban set up his battery-powered speakers and offered aspiring singers the opportunity to perform. Thousands of people now gather at 3pm every Sunday to experience the good, bad, old, and young belt out their favorites.
None of it was 'my scene.' Yet I found myself intrigued by the opportunity and the acceptance. By the dynamic, and the way it all just 'worked' . . . and I found myself bopping along to the beat. Some woman murdered Pantera, and Baden from Melbourne made us Aussies cringe with an alcohol-fuelled performance of Wannabe. Yet the crowd did nothing but cheer. There was no impatience among aspiring performers. No agro. And no ridicule.
It was a picture of tolerance.
A tolerance which had sprouted from very scars of the city's grievous past.
It's difficult to exist in Berlin without stumbling on some remnant of its brutal past. From the bullet-scarred facades to the unobtrusive Stolpersteine, the city's layered history provokes reflection in every interaction. Parks have taken the place of ruined synagogues, and children play in what were once the death strips. Unexploded ordnances are still discovered today at the rate of one per month. And with an endless supply of post-war rubble, even the city's otherwise flat geography has been transformed.
Created by the artist Gunter Demnig, Stolpersteinen, or Stumbling Stones are subtle memorials to victims of the Nazi era. Embedded in the pavement outside a victim's last chosen place of residence, the brass plaques are polished by footfall. There are currently 61,000 stones at 1,100 locations throughout Europe.
My breath was warm in the cold morning air and the path wound upward, through the mature trees now carpeting Mont Klamott. The routine of running brought with it a sense of normality in my life of constant change. Of reflection and discovery. But in Berlin, even the ground underfoot embodies evolution. And just shy of the summit, I stumbled on another inconspicuous legend which, like Berlin's history, could not be erased.
Mont Klamott, or Mont Junk, is barely noticeable under the mature trees of Volkspark Friedrichshain. This damaged wall is the only reminder of the massive flak tower that still stands below its surface.
In the post-war demilitarisation of Berlin, three attempts and more than 80 tonnes of explosive were used by the Allies to destroy the first of Hitler's three massive air raid shelters. But after more effort, much embarrassment, and little damage, the destruction of the two remaining towers was abandoned, seeing them simply buried under mountains of rubble which now form the centrepieces of Volkspark Friedrichshain and Volkspark Humboldthain.
The war yielded 65 million cubic meters of rubble in Berlin. And with only 25% of liveable dwellings remaining, women and children began the painstaking task of cleaning, salvaging and repurposing what they could. Bricks were extracted, cleaned and stacked for reuse. Helmets, shell casings and tyres were repurposed into cooking utensils, coffee pots and shoe soles. What remained was loaded into purpose-built trolleys, transported on makeshift rails, and piled onto the likes of Mont Klamott.
The north face of the anti-aircraft bunker, or flak tower, in Volkspark Humboldthain is still visible under the mountain of rubble used to bury it. It is still possible to access sections of the bunker on guided tours run by Berliner Unterwelten
Berlin had become a blank canvas . . . and the painting of a new, diverse city began.
Even with the Berlin wall dividing it, the city's location and opportunity enticed migrants from around the world. Vacant apartments and abandoned buildings became home to artists, students and activists. And with the fall of the wall in 1989, Berlin's squatting culture exploded . . .
Combining occupation with renovation in what Germans labelled 'instandbesetzen,' visionaries, punks, and hippies moved into derelict buildings, repurposing them into galleries, studios and performance spaces. United by anti-capitalist sentiments, they transformed their self-built communities into co-operatives, establishing cafes, cinemas and print publications . . . and plastered their political objectives across the crumbling facades.
Among the upmarket boutiques and trendy cafes of Prenzlauer Burg today, Kastanienallee 86 is one of few remaining unmodernised buildings. It is now a housing project which offers low rent, self-determined rules and a co-operative approach. The prominent silver slogans across the facade read: Capitalism normalises, kills, destroys.
Defiant screams filled the air as we stepped out of the subway and into the heart of Kreuzberg, one of the most prominent areas for squatter movements in the 1980's. The streets were dotted with police cars and I pulled my bag closer to my side. Shabby, graffiti-covered buildings lined the streets and two cops wrestled a vocal individual across the road.
In an ever-changing Berlin most squats have now been shut down, making way for new development and gentrification. Yet Kreuzberg retains a sentiment of 1980's activism. Squatting survives in a different form with the Rauchhaus, said to be the oldest continually occupied squat in Europe, now owned by the city, and gifted to the people. Corporate-funded street art is met with anti-establishment response. And the infamous anti-capitalism marches held on May Day, have ironically turned to protests against the commercialisation of anti-capitalist rallies.
Commissioned street art by Belgian artist ROA who is known for painting animals and rodents. The crude slogan "Love Art, Hate Cops" does not form part of the commissioned work.
I flopped into a makeshift deckchair, my feet digging into the sand and the Berlin of today staring down on me. Beyond the repurposed packing crates and the ramshackle bar of the YAAM co-operative, an excavator tore at a derelict high-rise. Shiny new office buildings looked on, and a group of crudely sketched horsemen threw bottles at a corporate-funded portrait. But it was the hand-painted words along the river bank which signalled a new generation of tolerance: "Refugees Welcome."
Inevitably Berlin is changing. Growing. Developing into a world-class capital.
Today, the city is a safe, welcoming place. Edgy. Trendy. Hip. From museums and monuments to co-op bars and cafés, old complements new. Yet a distinct presence of absence pays tribute to a troubled past. The disjointed feel suggests a complicated existence, and wide open spaces hint at the fading memories and untold stories, lurking, just below the surface.
Despite movement toward a more traditional social structure, and the controversy it may bring, Berlin's community of multiculturalism, open-mindedness and tolerance lives on. From race-obsessed pre-war policies, a city of more than 140 nationalities has emerged. A society divided by fascism has been united by possibility. And from the ashes of destruction, a showcase of expression and beauty has flourished, . . .
. . . a testament to the generations of survivors, visionaries, and self-determined artists who repurposed sorrow, into hope.
The presence of absence is a theme repeated many times over in Berlin. It is reflected, not only in the urban landscape, but also the art. This memorial, entitled 'Der verlassene Raum' or 'The Deserted Room' pays tribute to Jews who were forced from their homes.