On the Trail of Eternal Youth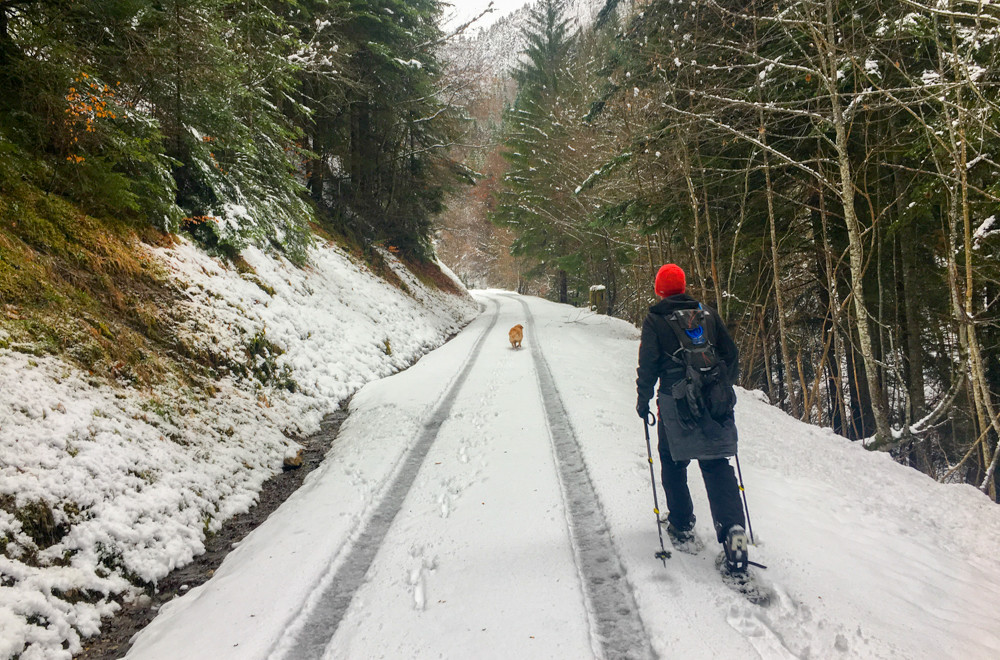 I rolled out of bed feeling every one of my thirty-seven years.
A sea of bruises mottled my skin and lethargy paralysed me. This wasn't how it was supposed to be. I was a cyclist. I rode up mountains. I was supposed to be tough. Yet one day in the snow had left me struggling to stand, and a world away from the fittest, best self I'd been only a couple of years before. Maybe I really was getting too old for this skiing caper.
But then if anything ever heartened me to the prospect of 'getting old,' it was winter in Europe.
I bundled my broken body into my best set of thermals and dragged myself out the door. Yes. It was winter, in Europe, and we were on a timely journey of inspiration.
Warmed by red wine, my cheeks glowed in the cosy living room and excitement stifled the ache in my quads. Our hosts, Peter and Annie, ran their fingers across the map, open on the coffee table, their Golden Retriever Solly, snoring at our feet. This stunning chalet, nestled in the Alps was ours to enjoy for the next two weeks . . . and Solly would be our mountain guide. I couldn't believe our luck.
"If you wanted a shorter walk, you could drive to the end of the cleared road." Peter gestured toward the mountain.
"Like we used to." Annie added with mock sternness. "Until our neighbours told us they walked from here . . . and they're much older than us." Playful determination danced in her eyes. "So now it's a competition. Our fastest time is two hours to the refuge."
Peter and Annie shared our passion for the outdoors. They followed Annie's son's ultramarathon pursuits. They travelled. They hiked, and snowshoed and skied. And meeting them for the first time was like catching up with high-school friends.
"I'm seventy in a couple of years," Peter added with pride. "So my ski pass will be free, and I intend on making the most of every minute."
Six hours had dissolved in pleasant conversation, and I'd forgotten Peter and Annie were retired. But Peter's skiing tales had reminded me of the one man who, four years earlier, had heartened me to the prospect of aging.
I'd been clinging, white knuckled to the ski lift, psyching myself up for my next human avalanche when a grey-bearded man stretched into the empty seat beside me. He was seventy-five, he'd told me, swinging a carefree ski below him. And he'd skied all his life. My own broken body had winced. Twice my age and double my stamina. I'd been ashamed, in awe and all out of excuses. Age was obviously only a number.
Colby and I set off for the refuge a couple of days later, feeling like a couple of tools with walking sticks in hands. But they kept a gentle rhythm with the crunch of our boots on the snow. Cold bit at my nose and Solly pranced gracefully alongside. What remained of my muscle aches paled against the stillness of the forest, folding silent into the valleys below. It was every bit as majestic as Peter and Annie had promised. And for a moment I wished they were there.
An hour and a half later however, I was glad they weren't.
A timber sign hung from its post, jutting vaguely up an icy bank. La Pastorale Refuge: 1 Heure. My boots slipped around as I struggled for a foothold, the walking sticks providing an un-coordinated but only too useful prop. Even the dog shot me a sympathetic look as I scrambled up the hill, looking every bit the 'tool' I felt. It was two hours, forty minutes altogether before we plonked ourselves down in the warm timber refuge, gulping at dishwater coffee as if it was a cappuccino on Collins Street. Yes, Peter and Annie would've put us to shame.
Our hike up the Tete du Danay two days later was even more treacherous. I scrambled across the steep slopes, my feet slipping out from under me like a cartoon character negotiating a banana peel. And although the scream of unfamiliar muscles had dulled to a tickle, I was yet to establish the real meaning of fit. Energy drained from me faster than I gained on the summit, and my resolve began to flail . . . just when a parade of pink-haired ladies marched on past.
Nothing could be further from our experience back home. Sure, snowy mountains in Australia are few and far between, but more to the point, I don't remember the last time I saw a group of seniors bushwalking. So what was it about Europe that kept people eternally youthful? And nurtured active pursuits in place of bingo, or Sunday afternoons in front of the TV? Was it the close integrated villages that discouraged reliance on cars? The sense of community? Or was it the unforgiving climate that forced 100-year-old men to shovel snow? Whatever it was, the difference was profound.
But as we adapted to the demands of winter, our minds and bodies also changed. Each time we hiked, or snowshoed, or skied our muscles protested a little less. And each time I stepped outside my comfort zone, my outlook changed. Perhaps the days of my fittest, best self really are behind me. But with so many days still ahead, I intend to maintain what I've got . . . and prepare to fill them with every youthful pursuit I can.
. . . And the next time I roll out of bed feeling every one of my thirty-something years, age will not be my excuse.
Leave a comment